GENERAL INFORMATION
Registration Form
Handouts
In support of Area L AHEC's continuing efforts to "go-green" we will no longer provide paper handouts at our continuing education events. However, handouts and presentation materials may be accessed electronically prior to these events. Prior to the program, participants will receive a link to handouts and other program resources via email.  Participants are encouraged to download these presentations to their personal computer or flash drive to access during the event.  Additionally, handouts for programs may be printed online and participants are welcome to bring a laptop, tablet, or other electronic device to view the handouts during the program.  Free wireless Internet access is provided for programs held at Area L AHEC.  We cannot guarantee Internet access for programs held off site.  It is the participant's responsibility to have installed anti-virus software and appropriate applications software for accessing online resources.
Electronic Devices
Area L AHEC encourages the use of laptops, tablets, or other electronic devices to view handouts or other resources during programs.   Area L AHEC does not provide technical support for personal electronic devices.  Area L AHEC is not liable for any lost, damaged, or stolen electronic devices.  Please be sure your electronic device is fully charged upon arrival;  we cannot guarantee access to electrical outlets to charge your device during a program.  As a courtesy and to minimize distractions for speakers and program participants, we ask that you please refrain from using your cellular phone until after the program has ended.
Room Temperature
While Area L AHEC makes all efforts to ensure a constant room temperature, it is recommended that participants bring a sweater or jacket to assure maximum comfort.
Photography
Photos taken at Area L AHEC Workshops and Events are used in promotional publications and online to educate the public about Area L AHEC, its services, and programs. Photos may be transmitted to news media outlets for distribution. Photos may also be displayed on web sites and social media pages maintained by Area L AHEC, as well as stored on file for future use. Please make AHEC staff aware if you do not wish to be included in photos.
Children and Breastfeeding Mothers
In consideration of the safety of our customers, no children – other than nursing infants – are allowed at Area L AHEC events.
Private space will be provided for breastfeeding mothers wishing to express milk.
Smoking Policy
For the health and safety of our guests and staff, the use of tobacco products and electronic nicotine devices is prohibited on the Area L AHEC campus (includes buildings, parking lots, and grounds).
Persons with Disabilities
Americans with Disabilities Act:  The University of North Carolina at Chapel Hill and Area L AHEC are committed to equality of educational opportunity and do not discriminate against applicants, students, or employees on the basis of race, color, religion, sex, national origin, age, disability, sexual orientation, or veterans' status. Participants requiring reasonable accommodations for disabilities to participate fully in a continuing education activity should contact Area L AHEC by phone at (252) 972-6958, no later than 14 days prior to the program.
It is the policy of Area L AHEC to afford individuals with disabilities, who require the assistance of a service animal (any dog or miniature horse that is individually trained to do work or perform tasks for individuals with a disability), equal opportunity to access Area L AHEC property, courses, trainings, and activities.  Therapy animals (animals that provide emotional support or passive comfort that alleviate one or more of the identified symptoms or effects of a disability) are not considered to be service animals under this policy.
This policy complies with the Americans with Disabilities Act (ADA) of 1990 as amended; Section 504 of the Rehabilitation Act of 1973 (P.L. 93-11) and 45 CFR Part 84; Fair Housing Act of 1968 42 U.S.C. 3601 et seq; Chapter 49.60 RCW; and Chapter 478-128 WAC.
Payments must be received prior to the program date to confirm registration. In order to pay with a credit card you must register online. If you are paying by cash or by check, you can complete and print a registration form, and send it via mail with your payment.
All cancellations must be in writing (fax or email). Cancellations greater than two weeks prior to an event will receive 100% refund. Cancellations received between two weeks and two full business days prior to the first day of an event are refunded at 70% of the registration fee, subject to a minimum $25 cancellation fee. No refunds or credits will be given for cancellations received less than two full business days prior to an event. In most cases registrants may substitute or transfer to another event, with advance notice.
Area L AHEC reserves the right to cancel a program or replace a speaker due to unforeseen circumstances. Area L AHEC will notify participants and distribute refunds to payers if a program is cancelled.
Inclement Weather
Area L AHEC values the safety of our program participants, students, speakers, and staff. All considerations will be made when evaluating weather conditions and abilities to commute during severe weather.  Closure or delay of operations may occur if it is determined that weather conditions are unsafe for travel.  Please call to find out about delays or closures (252) 972-6958.
Directions
Area L AHEC is located at 1631 S. Wesleyan Blvd. in Rocky Mount, NC.  To obtain specific direction from your location, click here.
Hotel Accommodations
To learn more about local hotel accommodations, click here.
Parking is available.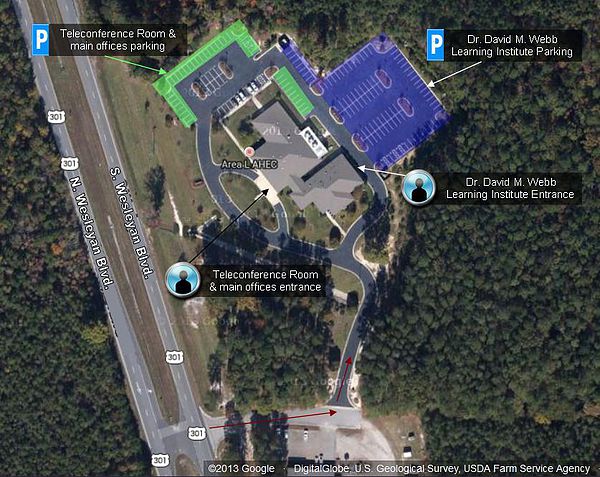 Privacy Notice
This privacy notice discloses the privacy practices for ncahec.net, my.ncahec.net, arealahec.org/, charlotteahec.org/, dukeahec.mc.duke.edu,easternahec.net/, gahec.org/, mahec.net, northwestahec.org, seahec.net/,southernregionalahec.org/, and wakeahec.org/ and applies solely to information collected by these websites. It will notify you of the following:
What personally identifiable information is collected from you through the website, how it is used and with whom it may be shared.
The choices available to you regarding the use of your data.
The security procedures in place to protect the misuse of your information.
How you can correct inaccuracies in the information.
Information Collection, Use, and Sharing
We are the sole owners of the information collected on this sites. We only have access to/collect information that you voluntarily give us via email or other direct contact from you. We will not sell, rent or share your information with any third party outside of our organization, other than as necessary. Information needed to facilitate the awarding of credit for continuing professional development activities may be shared with that accrediting body strictly to award credit. If an educational event is jointly provided, no information will be shared with the other partners without you receiving notification. If there are exhibitors at the event, your information will not be shared by us. You may choose to provide the information to the exhibitors.
Unless you ask us not to, we may contact you via mail, email or social media in the future to tell you about continuing professional development activities, local AHEC news, NC AHEC initiatives, or changes to this privacy notice.
Your Access to and Control Over Information
You may opt out and/or unsubscribe from AHEC marketing at any time.
In addition, you can do the following by contacting us via the email address or phone number given on our website:
See what data we have about you, if any.
Change/correct any data we have about you.
Have us delete any data we have about you.
Express any concern you have about our use of your
Activity registration allows transactional emails for confirmations, handouts, evaluations, certificates, etc. information.
Security
We take precautions to protect your information. When you submit sensitive information via the website, your information is protected both online and offline.
Wherever we collect sensitive information (such as credit card data), that information is encrypted and transmitted to us in a secure way. You can verify this by looking for a lock icon in the address bar and looking for "https" at the beginning of the address of the Web page.
While we use encryption to protect sensitive information transmitted online, we also protect your information offline. Only employees who need the information to perform a specific job (for example, billing or customer service) are granted access to personal identifiable information. Cardholder data is not stored. The computers/servers in which we store personally identifiable information are kept in a secure environment.
Registration
In order to gain access to registration and educational information, a user must first complete the registration form. During registration a user is required to give certain information (such as name and email address). This information is used to contact you about the services on our site in which you have expressed interest. At your option, you may also provide demographic information (such as gender or age) about yourself, but it is not required.
Cookies
We use "cookies" on this site. A cookie is a piece of data stored on a site visitor's hard drive to help us improve your access to our site and identify repeat visitors to our site. For instance, when we use a cookie to identify you, you would not have to log in a password more than once, thereby saving time while on our site. Cookies can also enable us to track and target the interests of our users to enhance the experience on our site. Usage of a cookie is in no way linked to any personally identifiable information on our site and you may follow your Internet browser's instructions to delete cookies at any time.
Links
This website contains links to other sites. Please be aware that we are not responsible for the content or privacy practices of such other sites. We encourage our users to be aware when they leave our site and to read the privacy statements of any other site that collects personally identifiable information.